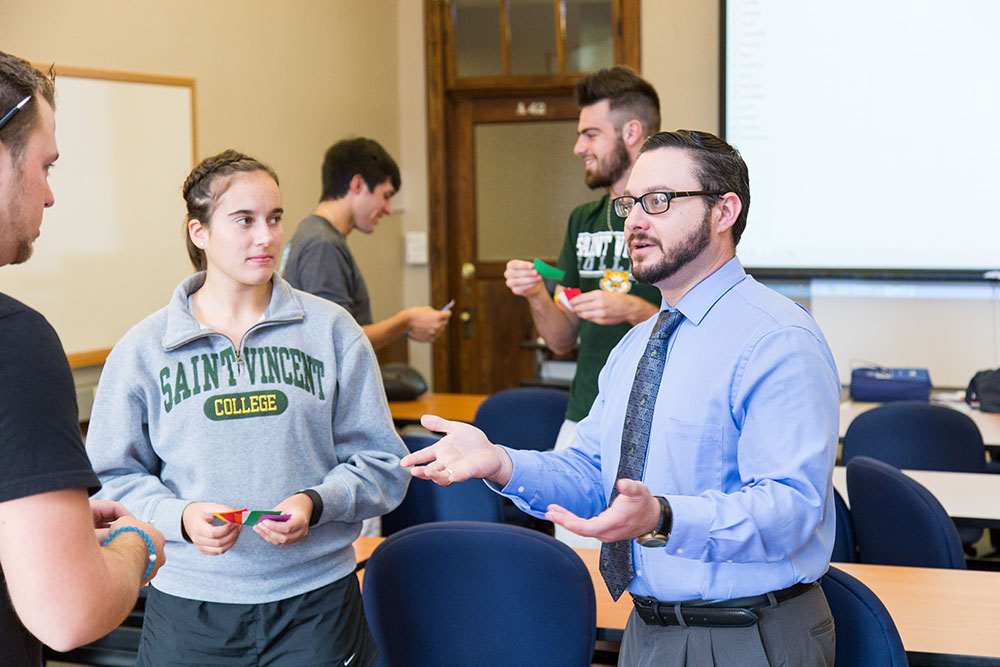 http://www.stvincent.edu | Dr. Michael Urick is an Assistant Professor of Management and Operational Excellence at St. Vincent College.  He received his PhD from the University of Cincinnati, his MBA and MS from Duquesne University, and his Bachelor's from St. Vincent College.  Dr. Urick teaches undergraduate and graduate courses related to organizational behavior and culture, human resources, communication and conflict, and research methods.  The Master of Science in Management: Operational Excellence program, which he directs, has been ranked as a "Top 50 Best Value Masters of Management" in two recent rankings.  Dr. Urick is Six Sigma Green Belt certified and is the recipient of an "Excellence in Teaching" award from the Lindner College of Business at the University of Cincinnati as well as the Quentin Schaut Faculty Award from Saint Vincent College.  Internationally, Urick was recognized by the Institute for Supply Management as "Person of the Year" in the learning and education category in 2015.  
Mike is an Associate Editor of the Journal of Leadership and Management.  In addition to dozens of pieces being published in journals and books, Mike is a regular speaker on age-related issues in the workplace throughout the US and internationally and is an active consultant on issues related to leadership, workplace interactions, organizational culture, and ethics.  Mike has served as a reviewer for a variety of academic publications including the Journal of Intergenerational Relationships, Journal of Social Psychology, and Journal of Organizational Behavior.  In his monthly blog on Saint Vincent's website, Urick blends his research and teaching interests to suggest practical and actionable items for readers to use in their current or future work situations.
Mike is currently vice president of ISM-Pittsburgh and is also a member of the Society for Human Resource Management and APICS.  Prior to academia, he worked in a variety of roles related to auditing, utilities, and training and development.
For more information, please read:
https://academic.oup.com/workar/article/3/2/166/2623784/Understanding-and-Managing-Intergenerational
https://www.researchgate.net/publication/298898256_Understanding_and_Managing_Intergenerational_Conflict_An_Examination_of_Influences_and_Strategies